This event is inactive
Thu, May 23, 2013
12:30 PM
Strategy & Soul: Lunch with Veteran Organizer, Daniel Hunter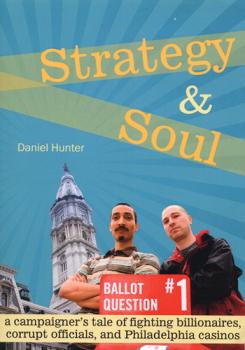 Eat lunch with JUFJ on May 23! We're hosting veteran organizer Daniel Hunter for an intimate conversation about the multi-year organizing project Casino-Free Philly, and what lessons we can learn for our work here.
Thursday, May 23, 12:30pm - bagel lunch and learning
How can we take on uphill campaigns against powerful opposition, and organize our community to fight and win? Come with questions for what is sure to be an exciting conversation. Read more about the campaign here and Daniel's book, "Strategy & Soul: A campaigner's tale of fighting billionaires, corrupt officials and Philadelphia casinos."
Sign up here - feel free to bring your own lunch, or for $5 we'll order you bagels, spreads, and veggies (all kosher). We'll get some extra bagels for people who don't pre-order, but your paying in advance is a big help, so thanks.
 If you can't make it for lunch, Daniel will also be reading from his book that evening, 6:30pm at Sankofa Books (2714 Georgia Ave NW at Girard).
Event Location
American Jewish World Service office - on Farragut Square

1001 Connecticut Avenue NW
Suite 1200
Washington, DC 20036
Map