---
Time For Some Reform...Tomorrow
This is a crucial moment for immigration reform: the Senate committee is holding hearings tomorrow on the proposed bill. Join JUFJers at 8:30 AM tomorrow, Thursday May 9, to reach out to those attending the hearings and let them know why we care about this issue.
We have the opportunity to create a more inclusive and just nation by fighting for comprehensive and inclusive reform. JUFJers will demonstrate our support as Jews for policy that recognizes we are a nation of immigrants - and that doesn't leave out anyone, especially LGBTI indviduals, who have been egregiously excluded and mistreated under current law. RSVP to katie@jufj.org for tomorrow's rally.
---
Special Lunch Event for the Activist Soul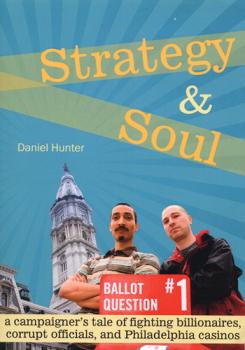 Eat your lunch with JUFJ on May 23! We're hosting veteran organizer Daniel Hunter for an intimate conversation about the multi-year organizing project Casino-Free Philly, and what lessons we can learn for our work here. 
How can we take on uphill campaigns against powerful opposition, and organize our community to fight and win? How do we establish enough leverage to take on hugely powerful opponents? Come with questions for what is sure to be an exciting conversation. Read more about the campaign here and Daniel's book, "Strategy & Soul: A campaigner's tale of fighting billionaires, corrupt officials and Philadelphia casinos."
Join us on Thursday, May 23 at lunchtime to learn from Daniel and Casino-Free Philly. We'll gather at an office near Farragut Square - exact time and location TBA. RSVP to sarah@jufj.org. If you can't make lunch, Daniel will also be reading from his book that evening, 6:30pm at Sankofa Books (2714 Georgia Ave NW at Girard).
---
Um, Separate is NOT Equal
Last Thursday Mayor Vincent Gray introduced a bill that would allow undocumented immigrants to obtain a driver's license. This would be fantastic news - except that instead of offering regular licenses, Gray's proposal would create a new, visually different  undocumented immigrant driver's license. 
Jewish history shows that when people are marked as different - especially on government I.D. - the result isn't neutral, it leads to profiling, stigmatization, and discrimination. Join JUFJ tomorrow at 3pm, Thursday May 9, at Freedom Plaza, to rally in support of equal licensing for undocumented immigrants. Check out Jeremiah Fellow Lindsay Schubiner's article on this issue in the Washington Post. More details here. RSVP to sarah@jufj.org or just show up!
---